Chokher Bali and other things
Last two days have been eventful: Sachin got his 35th ton, India bundled out for 290 came back to drag SL back to 198-6 at the end of the second day of the Delhi test; Spain beat a lacklustre India, 2-1, in Champions Trophy (when will our hockey mandarins learn!), but India in a surprisingly spirited display (though typically shoddy in parts: wasted 5 penalty corners in the first half) came back from 0-2 to beat arch-rivals Pakistan, 3-2; Miss India couldn't make it to the last 6 at Sanya, and
oil fires raged
like an inferno near London et al. And life goes on.
Saw Manish Jha's
Matrubhoomi
last evening at home. Thought it was a dark and poignant account of the other India, which, sadly, is very real. Just 2 points: Tulip Joshi looked too made up, or shall I say, glamorous, with her permed and shampooed hair for a ravished village belle, and the end was a bit melodramatic and abrupt.
Spent a lot of time reading my absolute favourite, NYT.
NYT on the Web
is a sheer delight, and thanks to the internet, I can savour it in bits and pieces quite regularly.
Amy Waldman, an intrepid NYT reporter, wrote 4 exhaustive pieces on India building its superhighways in a series titled "
India Accelerating
". Not only were the articles comprehensive and well-researched (she spent about a month travelling the length of the pompously called Golden Quadrilateral, from Delhi > Kolkata > Chennai > Mumbai > Delhi), they were accompanied by a truly outstanding audio-visual show. I also enjoyed another audio slide show on an art historian based in Princeton, NJ, redoing her home, "converting her
Cape Cod
into a Renaissance villa." Great examples of multimedia at work. Way to go, NYT.
The highlight of the weekend for me, however, was the masterly direction by Rituparno Ghosh in Chokher Bali. We saw the Hindi version of the film this evening (at home, of course) and what a cinematic delight it turned out to be. I found it cerebral, composed, bold, refreshing and a classic reminiscent of the great art of visual storytelling, only this time it depicted a social condition prevalent in the early 1900s Bengal and a free-spirited widow's attempt to break free from the mindless shackles imposed by the society. In her celebration of her sexuality and in her refusal to self-deny, I saw in Binodini's character shades of Meryl Streep, though in a different context, in
The French Lieutenant's Woman
.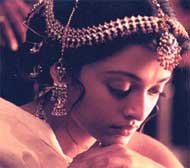 Aishwarya has been beautifully harnessed as an actor, and Tagore's story is compelling in its depth and social commentary. What a treat. I have decided to see more of Rituparno's films. Great stuff. And there's something to be said for the Bengali intellect. Do check out this
scholarly review by Mohua Mitra
at Rediff. The film merits a second viewing for sure.