Omkara, the new chic
Soven, S and I went to see
Omkara
at Chanakya today. And what a treat it turned out to be. I haven't read
Othello
, so I don't know (do I care?) how much of it is inspired by the Shakespearean play, but the film is set in the rural hinterland or call it 'badlands' of Uttar Pradesh. And my God, it rocks! I know I am prone to bouts of delirium especially when it comes to good films, music and food, so lemme try and enumerate (how very prosaic!) what I like about the film: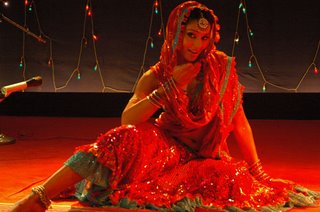 1. Othello or no Othello, the film has a life, a rhythm and a story of its own. There is a seething intensity to its narrative, and despite the pulsating item numbers by the sultry rural vixen
Billo Chaman Bahar
, there is an almost minimalist look to the film, in terms of plot sizing, dialogues and characterisation. Each character is firmly etched.
2. Ajay Devgan, my favourite Bollywood act, is truly a class apart. The film once again proves why. There is a mix of tenderness and brutality that he embodies in his character and plays it to perfection. You love him even when you want to hate him! He is consumed by the green monster, and ultimately succumbs to its shenanigans, evoking empathy despite the sheer heartlessness of his act. He is part schizophrenic, part frail, part monster. Difficult role executed well.
3. Saif is the surprise package in the film. I think this is his best performance so far.
Langda Tyagi
is scheming, loutish, brutish and vulgar, and Saif, the erstwhile sweet and chocolaty Saif of
Salaam
Namaste
, plays it with aplomb and gets into the skin of the character, warts and all. Is he a fox, a tiger, a snake or a rabbit, you gotta see the film to decide. (And not only when he pummels his wife in bed!) Yet you may remain flummoxed.
4. Bipasha imparts a great pizzazz and dignity to her character, Billo. A village item girl, she is in control, and man, a la Shakira 'her hips don't lie'. Powerful role-play of a village belle trying to survive in a male dominated world where ganglords rule, and guns and booze are a part of the staple diet.
5. Music, rustic, earthy music, is the highlight of the film as it gives it a certain feel, a context, and the pace. And, of course, it pulsates with raw energy. Check out
Beedi
. Gulzar's lyrics have a resonance about them.
6. Vishal Bhardwaj's direction is superb. It takes a brilliant mind to adapt a Shakespearean tragedy to rural India and make it work. Like mad. I haven't seen Maqbool, but I guess the guy is the new cool, the ubercool Director, as far as I am concerned.
7. The dialect is the way it should be, never mind the expletives. That's the way it is in the badlands, and that's the way it needs to be portrayed. Its robustness gives it a cutting-edge, urban sensitivities be damned.
Omkara
is a story of love gone wrong, and intense love goes intensely wrong. It's about the demon of envy in our hearts and our lack of ability to siphon the truth from the chaff of deceit. It's also about how women are dehumanised by the same men who can also kill for their love or possession.
If you haven't seen it, visit a theatre nearby. ASAP. And if you don't take my word, check out
this
review…:)